news: (last news on top)
---
---
17-August-06:
It took a while, but we should be back in Internet with our updated Homepage. And - good news - we got plenty of Webspace are hosted at a very fast Server and will be able to handle it more dynamically.

For the European (German speaking) community we have now the Website http://www.haupteingang.at (meaning = main entrance).
---
08-December-00:
There might be some URL's of interest:



---




22-October-00: WEB-cam added to homepage. When online one of three images (X-Y-Z) will be updated continuously.
---
11-June-00: WAP-homepage checked and re-done. Should work now (look for 2 images, 2nd WAP-deck), everything OK here - weather extremely hot now -
---
30-May-00: we have added <test 2> a provision for a web-cam (same soft-web-cam we now can use with Netmeeting 2.11). Some <links> have been added, click on images. important-looking email-addresses <contact> added.
---
14-May-00: Susanne & Floris enjoyed to be able to visit their friends in the US again after 2 years (Floris) and 11 years (Susanne).
Email-form added at button <contact> ; should make an info-exchange much easier ... please try it out.
---
13-Apr-00: We got a WAP (wireless application protocol) homepage too, to be reached by specific WAP-cellular phones.


Floris cancelled the CompuServe account; please see "contact" for the actual email accounts.
We got NetMeeting (2.11 and 3.01) to talk over the internet (see "contact" for account to dial)
---

05-03-00: These days there is Carneval ("Fasching") is in Austria, we ought to make life more crazy than it is ...

... me too
---
17-02-00: GRETZMACHER-family-data have been uploaded to the "member only" area.
a Java-Game has been added to the "test-1" area, we hope y'all like this version of
breakout.

---
03-01-00: Please click on "family"-button and then on Floris' picture and see some peculiar variations of the theme.

---
02-01-00: The current political situation in Austria encourages us to give our comment: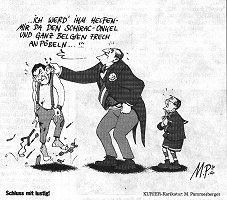 please click on image to enlarge it and get an english interpretation
Floris remembers having learned in US-civics class:
QUESTION: "what is politics ?
ANSWER: "politics is the science of good government"
(Mr. Richards, Andrew Lewis High, Salem Virginia 63/64)
---